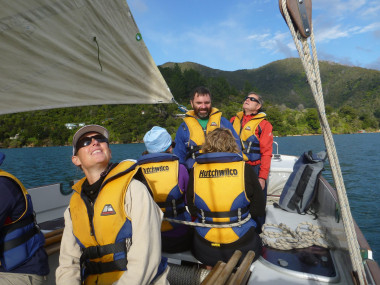 Name: Kilmeny Stephens
Age: 46
Waka Ama Club: Maitahi Outrigger Canoe Club
What course did you complete at Outward Bound? How long were you at Outward Bound for?
I did the 21 day Masters course (27+ years old)
What did you find most challenging at Outward Bound?
My hardest physical challenge was rock climbing, which I did, but did not enjoy. You may be clutching a rock in the rain, with your legs shaking, a steep drop below you and not knowing where to go next... Can you tell some people are not comfortable at heights? What is really reassuring is that when you know that you are going to have to figure it out, it is possible to calm yourself, find a way forward (or maybe sideways and then up), and carry on to the top.
What experience did you enjoy the most?
I was not looking forward to coasteering in cold water, but found it one of the most fun experiences that I had at Outward Bound! Coasteering is exploring a rocky coast from the sea, using sit-on kayaks, and swimming with others around rocks and through tunnels in swirly waves. With a couple of wetsuits, paddle jacket, life jacket, helmet and two very experienced instructors, you keep warm and protected. I fell out and got back in early on, so got that out of the way, and relaxed and enjoyed it from there!
What would you say to someone who is thinking about doing a course?
Go for it! Put in an application and see where it takes you – there's nothing to lose and a huge amount to gain. You will share experiences with fascinating people and have the opportunity to learn skills that will benefit you for the rest of your life.
What are some tips you would give to people who are going on a course?
The fitter you are the better. Try to borrow gear instead of buying. Take more socks than they suggest. Attend with an open mind.
What are some values that Outward Bound School taught you?
Outward Bound gives you an opportunity to think about your own values, and define how these are important to you – family, loyalty, democracy and fairness, and environmental awareness are the things I value the most.
Would you recommend Outward Bound to fellow paddlers?
Yes - teamwork, coordination, tolerance, self-confidence, working through challenges together – all Outward Bound things that make great paddlers!
Is there any one you would like to thank that supported you during your Outward Bound experience?
Many groups and people! Heartfelt thanks to: Waka Ama NZ, New Zealand Community Trust and Nelson City Council for funding my attendance at Outward Bound; Gina Lyon for writing my reference letter; Jan Blythe, Jane Goodman and Mary Curnow for lending me warm gear and equipment; Maitahi Outrigger Canoe Club and my husband Tony for encouragement and support; our instructors Paula, Angus (and Meg, Dave and Asher) for their adaptability and sharing their skills; and my fellow Shackleton 618 Watch – support and encouragement all the way!
Photo Gallery (click to enlarge)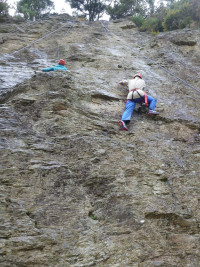 92,720 paddlers have looked at this page
Updated: Sep 14, 2016