VAIKOBI ADULT & JUNIOR PFD
Vaikobi has created an exclusive deal for their new PFD - offering a special price available to Waka Ama New Zealand Regions, Clubs & Schools.
*Limited stock available left over from Nationals - get in quick!
Get your teammates or whānau together and make the most of this great deal!
Adult PFD $90 each
Junior PFD $80 each
Available in fluro orange colour only.
If you have any questions please don't hesitate to contact us: admin@wakaama.co.nz
Head to our online shop now to place your order:
Shipping Information:
Pick up: Pick up is available from the Waka Ama NZ office. Date & time details for pick up are to be arranged and confirmed via email with Waka Ama NZ.
Shipping: All shipping costs are to be paid by purchaser. Shipping costs will be calculated after your purchase and confirmed via email from Waka Ama NZ. An invoice for shipping will be provided from Waka Ama NZ and is payable prior to delivery of PFD/s.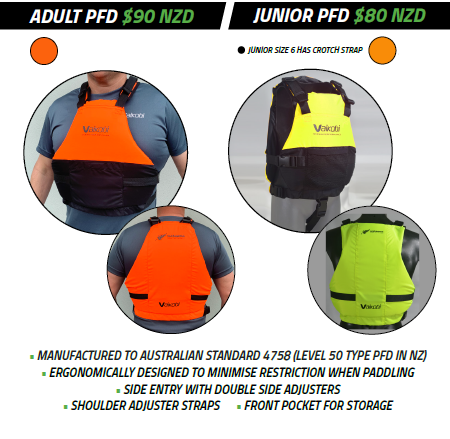 Sizing:
Junior - Size 6: 12-25kg / 65cm chest
Junior - Size 10: 22-40kg / 75cm chest
Adult - Size XS-S: 40kg-60kg / 90cm chest
Adult - Size M-L: 70kg+ / 110cm chest
Adult - Size XL-XXL: 70kg+ / 130cm chest
Each size has reasonable range in the straps.
Select size primarily off weight range.
Junior 6 has crotch strap.

Updated: Mar 9, 2021
7,264 paddlers have looked at this page