Kris Kjeldsen
(Posthumously)
One of the founders of the sport in Aotearoa New Zealand, Kris Kjeldsen, brought the sport to Pawarenga and helped to start the Ngā Hoe Horo Canoe Club. Kris had paddled Outrigger Canoes in California in the 60's prior to moving to New Zealand.
With his vision, his building skills, and his passion for canoes and the ocean, Kris drove the building of the first fleet of waka and the hosting of the World Sprints in 1990. He helped to start the Ngā Hoe Horo Outrigger Canoe Club and founded Moana Nui Canoe Builders, which remains to this day the main manufacturer of waka ama in New Zealand.
Sadly we lost Kris in 2011. His contribution to the sport was immense, and we are reminded of his legacy daily as we paddle Moana Nui waka on oceans, rivers and lakes throughout Aotearoa and around the world.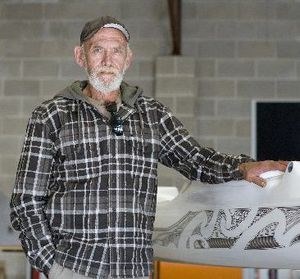 Updated: Mar 22, 2022
382 paddlers have looked at this page