If you feel sick at all – Please stay home
If you have any symptoms of COVID-19 even a runny nose, please get a test and then stay home until you get the results back. People at higher risk of severe illness from COVID-19 (e.g. those with underlying medical conditions, especially if not well-controlled, and seniors) are encouraged to take additional precautions when leaving home.
It is important to understand what will be possible in terms of practising, participating, or competing in Waka Ama during level 2.
COVID-19 Alert Level 2 and Waka Ama - Rest of NZ (excluding Auckland)
Waka Ama activity at Level 2 is as follows:
You may participate in W1, W2, W3, W4, W6 & W12 under the requirements that follow in this pānui.
Club training must adhere to the following health requirements:


Mandatory Contact tracing requirements:
Under Alert Levels 3 and 2, more businesses and locations are required to have processes in place to enable people to scan in using the COVID-19 tracer app, or manually record their visit.
Displaying QR codes for scanning is a legal requirement under the COVID-19 Public Health Response (Alert Level Requirements) Order (No 10) 2021. This means you need to display a QR code and have one alternate form of record-keeping for people who do not use the COVID Tracer App.
1. Clubs who do not already have them must download a QR code to be displayed at your club's facility/area to allow club members to check in each time they are onsite.
2. Clubs must keep one alternative form of record-keeping for people who do not use the COVID tracer app. This must be a register of paddlers, coaches and managers who attended practices. You must capture; date, time, name, and phone or email address
3. Clubs must also keep a register (as in 1) of any whānau or friends that attend practices and may not be paddling.
4. These records must be easily accessed for contact tracing and kept for at least 4 weeks after the attendance was recorded. The information collected may only be used for the purpose of contact tracing at the request of the Ministry of Health or local district health boards and must be kept secure.
Here is a link to Contact tracing information on the Sport New Zealand website: sportnz.org.nz
For Club QR codes you can find more information here: https://wakaama.co.nz/stories/read/1005357

Hygiene requirements:
1. Clubs must put in place processes to wipe down and clean all shared waka and equipment before and after use (This also applies to shared paddles, life jackets, safety gear, and other shared equipment)
2. Waka Ama clubs that have a physical club facility or one that is shared with another organisation, must ensure that public health guidelines are adhered to regarding that premise.
3. Waka Ama Clubs that rent or lease facilities must ensure that the owner has adhered to the public health guidelines and should request a copy of what guidelines have been put in place for the facility.
4. Individuals must maintain a high level of personal hygiene, especially handwashing and surface cleaning.

Gathering requirements:
Gatherings are limited to 100 people in an indoor space, and 100 people in an outdoor space.
1. Gatherings at clubs – indoor must not exceed 100 people that includes spectators, paddlers, coaches, managers, officials, and supporters.
2. Gatherings at clubs – outdoor must not exceed 100 people that includes spectators, paddlers, coaches, managers, officials, and supporters.
3. For Waka Ama club practices where multiple waka are on the water, congregations of paddlers, coaches, and managers before, during, and after practice must not exceed 100
4. Spectators and whānau who are not paddlers, coaches or managers should be discouraged from attending practices
5. Care must be taken where up to 100 people may congregate in groups at communal points such as entries, shared toilet/changing room facilities and car parks, and to maintain physical distancing within and between groups. Phasing of activities is recommended to allow time for people to pass through these areas safely.
Social Distancing:
1. Face coverings are now mandatory at Alert Level 2 and above for most people visiting and working in businesses and services. This is a new requirement for visiting retail shops and indoor public facilities like museums, malls and libraries.
2. It is recommended that individuals physical distance of 1 metre and in the case of someone who is not known to you, you should maintain a 2-metre physical distance.
3. It is recognised at alert Level 2, that contact during physical/recreational activity will occur, but this should be minimised as much as possible and distancing should resume when not participating in sport or recreational activities.
Travel:
If you're living at Alert Level 2, you can travel anywhere in New Zealand that is at Alert 2, but make sure you do it in a safe way.
Note: If you live in Northland and have to travel through Auckland you will need to ensure you fulfil all the travel requirements.
You legally must wear a face covering when travelling to, from or through an Alert Level 2 region on public transport, including flights.

Further travel information can be found here: https://covid19.govt.nz/travel-and-the-border/travel-within-new-zealand/regional-travel/#travel-between-regions-at-alert-level-2
Events at Level 2
Sanctioned events may only be held at Level 2 where:
· Application is made to Waka Ama New Zealand and approved.
· Events must not exceed 100 people including paddlers and officials
· Waka Ama New Zealand will set the paddler entry limit
· No spectators are present
· COVID 19 protocols, hand sanitiser easily accessible.
· Mandatory Contact tracing QR codes, and one other form of record-keeping at the event venue for people 12yrs and older
· All participants are entered and recorded via the Waka Ama New Zealand online Entry system prior to race day.
· Waka Ama New Zealand will appoint someone to oversee the COVID 19 procedures on the day of the event.
· Should part of New Zealand be in level 2.5 , level 3 or level 4 then paddlers or officials from those areas are not permitted to take part in the event.
· Wearing of masks for officials, volunteers and paddlers (when not racing) is mandatory
· No Prizegiving or Indoor gatherings
· Waka Ama New Zealand will provide COVID Level 2 sanction criteria and templates
See attached at the bottom of the page - Waka Ama NZ Events and COVID- 19 considerations
For more information on contact tracing options and templates: https://covid19.govt.nz/business-and-money/businesses/record-keeping-and-contact-tracing/
Get your QR code here: https://covid19.govt.nz/business-and-money/businesses/get-your-qr-code-poster/
---
Waka Ama New Zealand are happy to answer any questions that you may have or for you to contact us to bounce some ideas off us, around how your club may implement the Level 2 requirements as outlined. Contact admin@wakaama.co.nz
· More Level 2 information can be found here: covid19.govt.nz
· You can stay up to date with the latest information and advice from the New Zealand Ministry of Health here: health.govt.nz
· There is also a dedicated Government a website where you can find all essential information covid19.govt.nz
· COVID-19 Alert levels: https://covid19.govt.nz/alert-system/covid-19-alert-system/#alert-level-2%C2%A0%E2%80%94-reduce
For further COVID 19 information:


If you have any direct concerns regarding COVID-19, you can call the dedicated Healthline for free on 08003585453 (or +64 9 358 5453 if you're using an international SIMS)
If you are feeling unwell or have any symptoms of COVID-19
please stay home – Do not paddle.
Please contact admin@wakaama.co.nz should you have any questions
Photo Gallery (click to enlarge)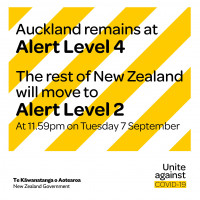 1,599 paddlers have looked at this page
Updated: Sep 14, 2021