Cathedral Cove Challenge (Sanctioned)
Venue: Buffalo Beach Reserve, Whitianga
Date: Sat 22nd Sep - Sun 23rd Sep 2018
Distance: 10km-25km W1/W6
An exciting two day event featuring the world famous Cathedral Cove! A stunningly scenic race on day 1, the races starts from Buffalo Beach, out to Mercury Bay, along the beautiful coastline, past the world famous Cathedral Cove, to Hahei and the back to Buffalo Beach. Day 2 is a short race out towards the far end of Cooks Beach and back for novices and juniors, and a race for W1 and W2 straight to Cathedral Cove and back. The entry fee for Day one's race to Cathedral Cove includes a free dinner at the prize giving event. See the Cathedral Cove Challenge Facebook page for further information. https://www.facebook.com/CathedralCoveChallenge/
Paddlers looking for crews:
Looking for a J16 girl to race in the 10 km race on Sunday 23 September at the Cathedral Cove Challenge. We also have two experienced female paddlers, wanting to join a crew for the 25 km race on Saturday 22 September. They are happy to join a women's or mixed crew. Call Lisl on 021-148-6982 if you can help.
I'm looking for a seat with a strong crew in the 25 km W6 race, women or mixed. I'm a strong, fit SMW, just returned from 4 days of racing in Hawaii, competing in Queen Lili'uokalani and returned with 3 silver medals, including 30km iron race. Call Cindy, my ph number is 021326598.
---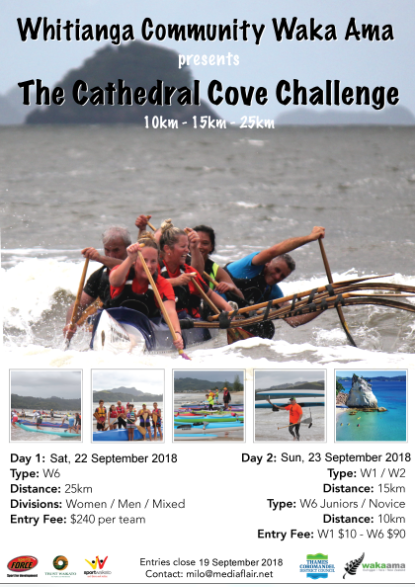 Online Entries:
Entries Close: Tue, 18th Sep 2018 at 11:59pm
Roster Close: Wed, 19th Sep 2018 at 11:59pm
Contact Details
Name: Lisl Wollheim Jones
3042 paddlers have looked at this page