Cathedral Cove Challenge (Sanctioned)
Venue: Buffalo Beach Reserve, Whitianga
Date: Sat 22nd Sep - Sun 23rd Sep 2018
Distance: 10km-25km W1/W6
Whitianga Community Waka Ama club hosted the 2018 Cathedral Cove Challenge over the weekend, and a record number of paddlers travelled to Whitianga to participate in this iconic racing event.
Day 1 on Saturday had challenging conditions for the 89 competitors, who had to paddle from Buffalo Beach, past Cathedral Cove, round a buoy off Hahei Beach, then surf downwind past Center Island, round another buoy before Round Island, and lastly had a hard slog back to Buffalo Beach, a distance of 25 km. Race 1, for women and mixed crews, had 7 teams of W6 competing. Mike Bennett, captain of the local team 'WakaWhiti', said, "It was a tough race with challenging conditions, but it was extremely rewarding considering we only had 5 paddlers instead of 6. It was great to finish with a delicious hot soup made by local club members at the end of the race, and enjoy the camaraderie amongst all the paddlers." The race was won by "Gunz n Rozes" from Waitakare Waka Ama Club. First women's team was "Uruhina" from Te Au Rere Waka Ama Club. Race 2 saw 8 men's teams battling it out, and the race was won by reigning champions "Bhutty Boys" from the Hei Matau Club in Rotorua. A prize-giving dinner was held at the local Bowling club where everyone enjoyed watching a video of the race taken by Franz Roozendaal.
Day 2 on Sunday was bright and sunny, with beautiful conditions for the 10 Junior and Novice teams. The teams paddled 10 km across the bay to the far end of Cooks Beach and then back to Buffalo Beach. The last race of the day was the W1 and W2 category and the 26 vessels had to race past Cathedral Cove and back again. Line honours were taken out by Paul Roozendaal from Tauranga. A prize giving was held after the event, with many competitors received spot prizes, generously sponsored by many local businesses.
Club President Peter Corbishly said, "In three short years, the Cathedral Cove Challenge is fast becoming a very popular race on the NZ Waka Ama racing calendar. This is due to our iconic location, challenging conditions, and the generosity of local businesses with regard to prizes, as well as the excellent number of safety boats."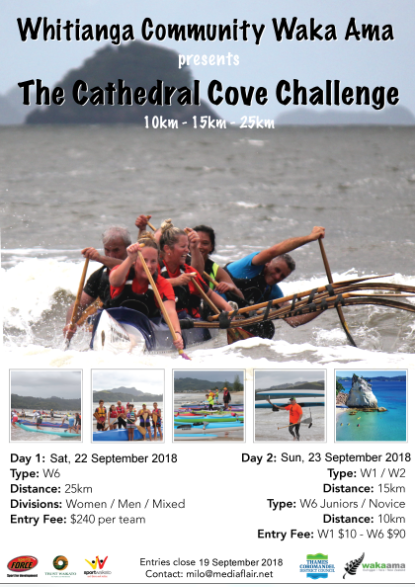 Online Entries:
Entries Close: Tue, 18th Sep 2018 at 11:59pm
Roster Close: Wed, 19th Sep 2018 at 11:59pm
Contact Details
Name: Lisl Wollheim Jones
3547 paddlers have looked at this page