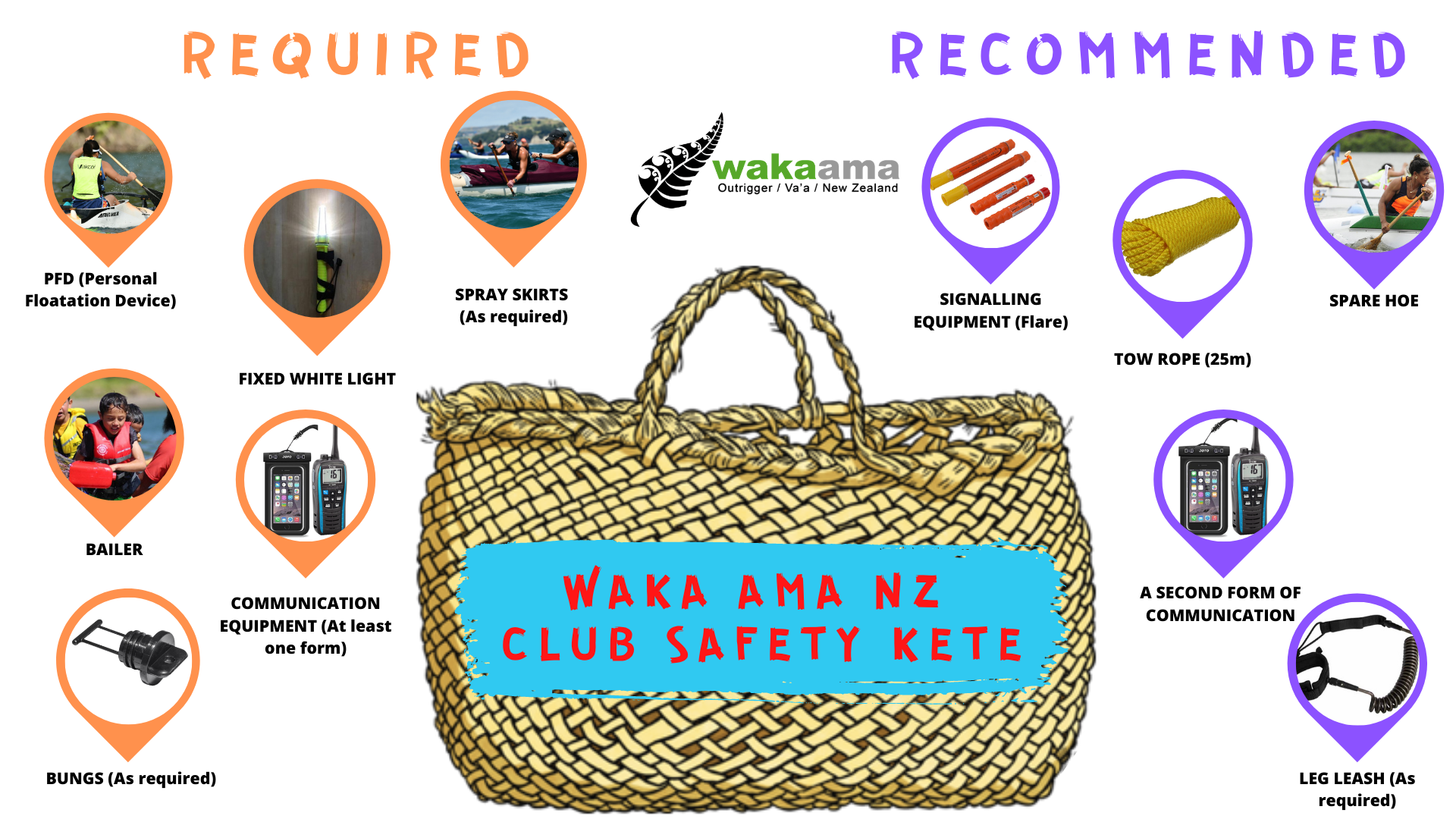 Required Waka Ama Safety Gear:

Personal floatation devices (PFD) as required​


Bailers​– as required (2 for a W6)

Fixed White light fixed 1m above deck and visible from all directions

Bungs ​(as required)​

Spray Skirts (as required)


Communication equipment (at least one form)
Recommended Waka Ama Safety Gear:

A second form of communication

Spare paddle

Signalling equipment (Flare)

Tow rope (25 meters)

​Leg leash (as required)
Waka visibility

There are many factors that can prevent boaties from seeing Waka and other craft that sit low in the water. Conditions such as choppy water, fog, glare, sun strike, rain, wind in the eyes, and salt spray on the windshield, poor vision or a combination of any of these can affect a boatie's ability to spot a small craft in the water. Waka paddlers and others using similar craft can do a lot to dramatically improve their visibility – and therefore their own safety.

Use your head

- Your head is your highest point – make it as bright as possible. Day-glow orange or yellow hats are highly visible.


Blazing paddles

- Motion is another important visibility tool. Because your hoe (paddle) is in constant motion while paddling, you can increase your visibility by using reflective tape on blades or shafts, in combination with strips of day-glow tape.


Fly the flag

- Day-glow orange and yellow chopper flags provide a permanent bright flash at a good height above the water. Chopper flags 'break the horizon' of other vessels and draw attention to the Waka.


Have a colourful craft

- Choose a Waka in a bright, contrasting colour.


Dress to impress and protect

- Wearing a day-glow orange or yellow paddle jacket or over shirt offers the highest visibility potential


Warm, dry clothing

- Effective clothing for paddlers in winter is a top made of polypropylene (or similar synthetic fibre), plus a waterproof wind shell as necessary.


Stick together and light up



Miscellaneous Equipment
Water bottle/energy snacks

-

If you are paddling any distance you need to keep well hydrated. You can use an ordinary water bottle, but make sure it is tied onto your Waka. Most paddlers use a backpack drinking system for long distance paddling. Energy bars or similar can also provide nourishment.

Knife

- A sharp knife attached to your PFD can have many uses from freeing yourself or others from entanglement, to fishing.


Survival kit

- On a serious trip paddlers should carry a small bag containing survival gear that they can grab if they get washed onto some remote shoreline. This can contain first aid gear, an emergency blanket, emergency shelter, fire lighting equipment, energy food.


First aid kit

- A small, basic first aid kit should be carried.

103,984 paddlers have looked at this page
Updated: Sep 26, 2014