Te Heke (Sanctioned)
Venue: Wharetana Bay, Waiheke Island
Date: Sat 23rd Feb 2019
Distance: 56km
Host: Waiheke Waka Ama Club
TE HEKE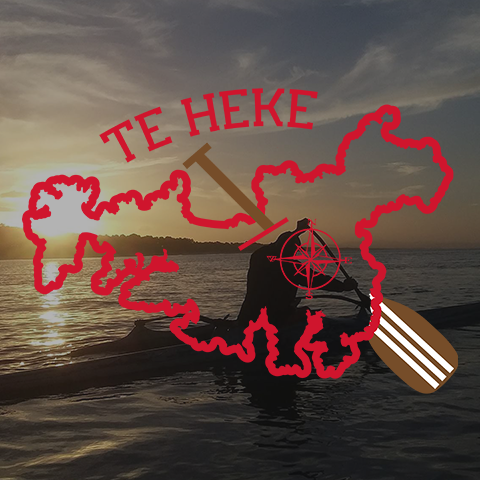 After 12 months of planning and already one postponed race date, it all came together last Saturday for the creators, participants and supporters of Te Heke Circumnavigation of Waiheke Island paddling race.
Tony Parker and Toby Lerew have both suffered severe bouts of palpitations in the week leading up to the race, as Cyclone Oma raised its stormy head in the Vanuatu region and then threatened to bear down on New Zealand. Mothers of the young invitational elite paddlers Manutea and Tupu could not bear the thought of their precious sons lives being put at risk racing in the atrocious conditions that were forecast.
Thankfully the forecasters predicted, mostly incorrectly, and the conditions on the day turned out to be challenging with the spring equinox like conditions, but not unmanageable.
Maria O'Connor and Mark Jackson kindly offered access to Wharetana Reserve via their property where race HQ was stationed, the start and finish point, on the eastern side of Putiki Bay.

On the race morning, many paddlers arrived on their support boats with their race craft lashed to the side traversing Tamaki Straight from Auckland's east coast. Others arrived from different parts of Waiheke.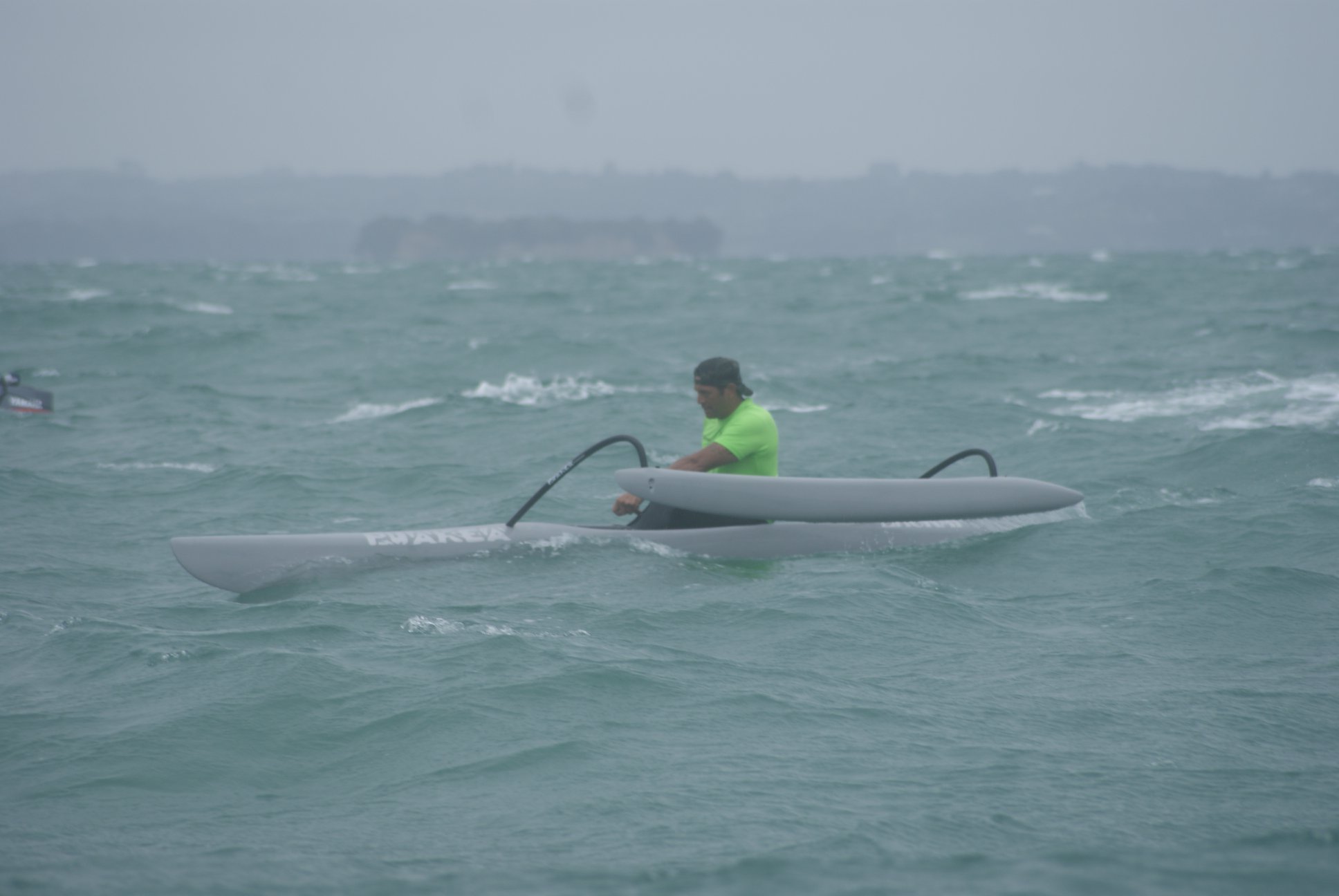 Conditions looked appealing for a smooth circuit of the island at an earlier start time, as there was only a slight breeze and fairly smooth sea conditions. The stand up paddle boarders, a conventional kayaker, surf skis and waka ama paddlers tarted in a staggered sequence between 8am and 9am.
Once the paddlers ducked around the south eastern corner of Putiki Bay all paddlers had a smooth hour or two run up to Hooks Bay except for the Bay of Plenty team of Mitch Zandstra, Ash Roozendahl and TK Rolleston whose lack of local knowledge led them to damage their rudder on a submerged rock during this early leg. They courageously continued on to Pie Melon Bay until they could no longer safely paddle their slowly submerging vessel.
By this time, two elite waka ama teams Tupu King and Marcel Hellesoe, Manutea Millon and Stephen Roulston had a commanding lead, even over the SUPs Kohi SUP Club and conventional kayaker Uncle Baz even though these crews had started 37 minutes earlier.
These two waka ama teams comprised 3 of the best paddlers in New Zealand and Marcel definitely is in the top 10. This is no mean achievement. There are over 3,500 waka ama paddlers in Aotearoa.
Manutea himself has dual citizenship and is ranked #3 in French Polynesia, the home of outrigger paddling where Va'a (waka ama) is their national sport and top paddlers have the equivalent prestige as rugby players in NZ, or NBA players in the USA.
The long northern leg from Thumb Point to Owhanake passing the famous beaches of Onetangi, Palm Beach and Oneroa changed the positions of the crews behind the two leaders. Tony Parker's team went from last overall to 3rd overall passing the male/female team of Richard and Ngaire Rae Pehi, and six Waiheke Waka Ama Club members team paddling in the V3 led by their highly experienced skipper Fraser Munroe. Strategies and routes for this leg by the different teams varied with Tony, Cowan Lindesay, Jonas Hoos and Matt Cole utilising their local knowledge and taking advantage of ocean eddies to push them along while avoiding the increasingly strong south westerly winds that they would have encountered further out to sea.
This strong SW played havoc with the female component of the mixed team, who felt like every time she hoped into the waka, it increased in velocity to stymie her efforts, whereas, when Richard, her husband (a long standing age group World champion) hopped in, its strength abated.
We sympathised with the SUP teams who much prefer flat or downwind conditions, as with the increasingly blustery winds that evolved throughout the day, made their circumnavigation made a pure challenge of mental fortitude.
Just before 2pm, the two leading waka teams came upon Park Point, just to the west of Kennedy Point, where they raced each other in almost pure downwind surf conditions with just seven seconds separating them after five hours of paddling.
Our congratulations going to Steve and Manutea just pipping Tupu and Marcel by the finest of conditions. With both being gracious in defeat and victory with a respectful island style handshake between them before they had even got out of their canoes.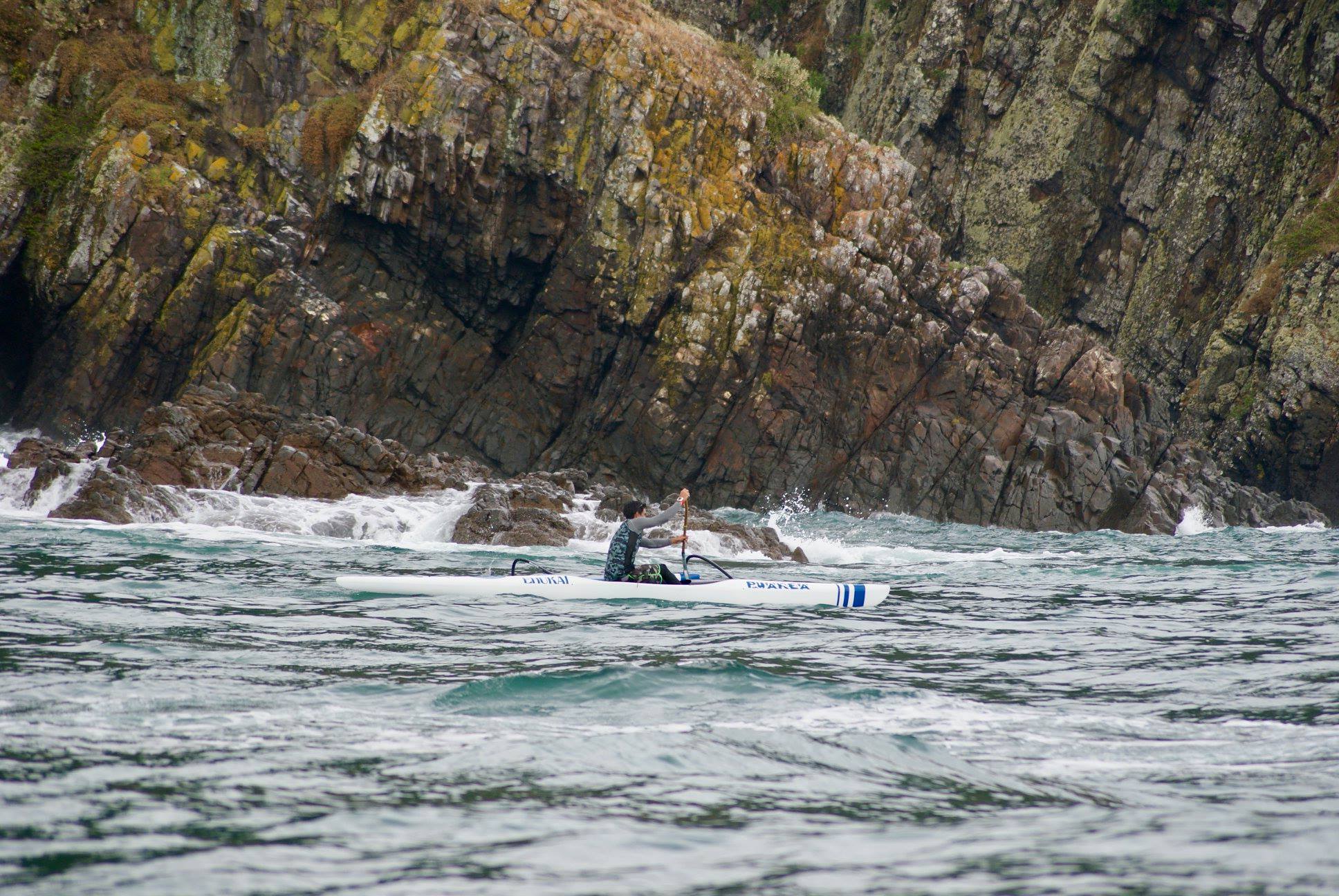 Conditions deteriorated in the next couple of hours with winds gusting to 25 knots making it even more difficult for the trailing paddlers.
Tony's team was next in, in just over 5 and a half hours. Then Richard with his wife Ngaire Rae, and then Waiheke Waka Ama Club in the V3 completing it in just over 6 hours.
Our loan surf ski competitor, John Barker, completed the circumnavigation solo, a huge effort with support of his parents in their launch. Barry Baker also completed it solo in his kayak. Uncle Baz, as he is known, capsizing at one point on the western side of the island and where he said that "he couldn't avoid this, as three different waves were coming at him from three different directions". What an accomplishment for a 67 year old to completed this in 7 and a half hours.
The Kohi SUP Club with our very own, Damian Dobb, gratefully completed their inaugural circumnavigation in a gruelling 8 hours, although with the vivacious celebration of the team as Damo crossed the finish line you would think they had enough energy for another round. Heke Beer did actually supply another round, serving cold, fresh amber liquid to all finishers and supporters, thank you Mark Hindmarsh.
The event was wrapped up with prize giving on the beautiful Te Whau Esplanade Reserve where a score of spot prizes drawn by Waiheke Waka Ama Club midgets and intermediates, were given out to participants. These were kindly donated by Casita Miro, Onetangi Beachfront Apartments, Motu Hoe paddles, Diamonds Direct, Olympic Pool & Fitness, 3 Wise Men, Preto Barber Shop and The Barn Ostend. We would also like to thank Lance Crosland for his expert maritime knowledge and overseeing our support boat flotilla. Also thanks to Reagan for providing his support boat last minute, Tony Parker for kindly carving and donating the trophies, Waiheke Waka Ama Club members for set up/pack down and support on the day and Aqua Water for donating a full water cube for the event!
Full Results:
1st Manutea Millon & Stephen Roulston V1 relay team 5hrs
2nd Tupu King & Marcel Hellesoe V1 relay team 5hrs 7 secs
3rd WWAC – Tony, Cowan, Jonas & Matt OC1 relay team 5hrs 44 mins
4th Richard & Ngaire Rae Pehi OC1 relay team 5hrs 52 mins
5th WWAC – Fraser, Woody, Eru,
Steve, Jarryd, Jasmine & John W3 relay team 6hrs 11 mins
6th John Barker Surf Ski solo 6hrs 29 mins
7th Sam & Ollie SUP relay team 7hrs
8th Uncle Baz Kayak solo 7hrs 41 mins
9th Kohi SUP Club – Damo, Troy,
Simon & Mark SUP relay team 8hrs 2 mins
If you are interested in finding out more about waka ama, join us on FB, Waiheke Waka Ama Club or email wakaamawaiheke@gmail.com
Toby Lerew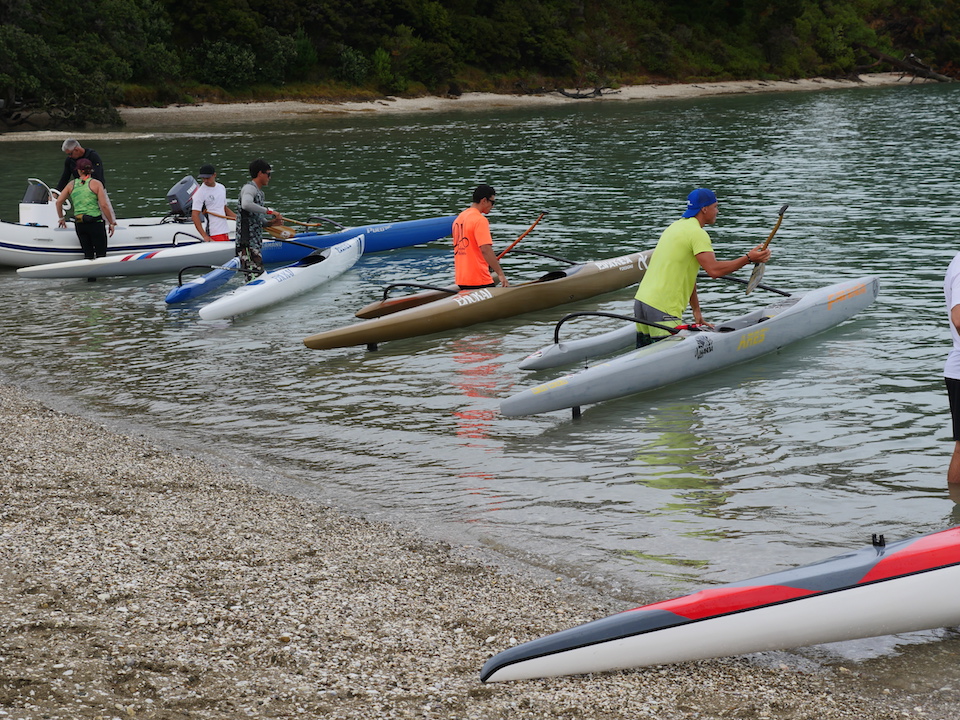 All photos can be found here: https://www.facebook.com/theheke/
Race website: https://www.theheke.co.nz/
Contact Details
Name: Toby Lerew
2,830 paddlers have looked at this page