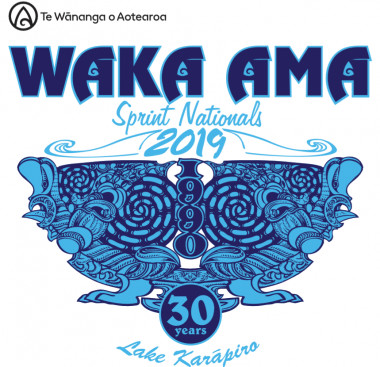 Wishing you all a very Happy New Year! To kick off 2019 we would like to unveil the logo for the Te Wānanga o Aotearoa Waka Ama Sprint Nationals 2019. The logo uses the same logo image used at the 1990 World Sprints that were held in Auckland. This image was also used to promote the 1st Nationals at Karāpiro in 1990.
The image was drawn by artist and Waka Ama stalwart Paul Marshall-Slade, Nga Hoe Horo

Paul designed many of the early Waka Ama logos and event T-Shirts and was also part of the first Aotearoa men's team to compete at a world sprints when he raced for Nga Hoe Horo in 1988 in Hawaii.


Paul gifted Waka Ama New Zealand many of his early designs in 2013 when we were preparing for the 25th Annual Waka Ama Championship and we are so thankful for his dedication and love for the sport of Waka Ama throughout the years.

Unfortunately Paul passed away this year and so this 2019 logo is not only a commemoration of 30 years of Waka Ama Sprint Nationals, but also a tribute to Paul and the contribution he made to our sport. One of the many generous souls who have added their touch to our Waka Ama tapestry.
85,668 paddlers have looked at this page
Updated: Jan 1, 2019