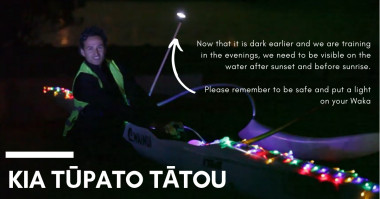 With winter coming we want to remind all paddlers about the need for a light to be shown when on the water during the hours between sunset and sunrise.
The Waka Ama Safety Guidelines state the following requirement: "Fixed white light 1 metre above deck, that can be seen 360°" - "Required for night paddling"
Maritime rules require that, as a minimum, waka paddlers must carry a torch to prevent collision. However, holding a torch may prevent you from paddling effectively and therefore being seen! Wearing a head torch leaves your arms free to paddle. In addition, mounting an all-round white light (or a red, green and white sector light) on your rear deck above head height means you will be visible from all directions.

These lights are readily available at marine goods or kayak retailers. In addition to being in the safety guidelines, this is also a requirement under Maritime rules and local Bylaws.
Kia tūpato e te whānau
For more information
https://paddleshop.co.nz/products/waka-ama-safety-tektite-light-ready-to-go

https://www.maritimenz.govt.nz/recreational/documents/Waka-Ama-safety-rules.pdf
https://www.maritimenz.govt.nz/recreational/documents/paddle-craft-guide.pdf

Video Gallery
44,008 paddlers have looked at this page
Updated: May 10, 2019