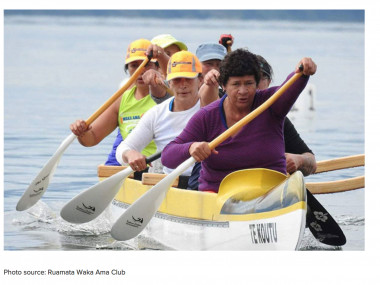 He maimai aroha ki a Mala Grant
Maringi noa nei te roimata me te hūpē

Mōu kua wehe nei i te tirohanga kanohi
E kui, takahia atu rā te ara whānui a Tāne
I takahia atu rā e tō tupuna, e Hine-tītama
Ki Tahekeroa. 
Kua ea ngā mamaetanga o te ao kikokiko nei
Hoake, haere koe ki te huihuinga o te kahurangi
Ki te kāpunipunitanga o te wairua
Moe mai rā…
We, Ruamata Waka Ama, wish to inform the waka ama community that Mala Grant passed away on Friday morning after a long battle with cancer. 
E kore e ea ngā kōrero mōna i konei, inā kē te nui.  We couldn't do justice here to all of Mala's achievements and contributions in waka ama, and in the many other kaupapa she was involved in, but we would like to think that those that knew her all have uniquely special memories of Mala, as she had a way of treating each person like they were all that existed.
Mala has been lying in state at Taheke Marae, where her final service and will be held at 11 am on Monday 10th February.
Photo Gallery (click to enlarge)
Reader Comments
(This story is archived no further comments can be added)
Moe mai ra e te koka. Ka noho takanga o matau waka, ā, ka pohara te whanau kaihoe o Aotearoa whanui i to ngarotanga atu. Haere, whoatu, moe marire mai. Na te hika o Horouta Waka Hoe.


Horouta Waka Hoe

- 10-Feb-2020

Oh Mala, we still wanted to do so many things. It's not fair that such a great friend like you had to go that early. It was always a pleasure to talk to you and paddle with you. I will never forget you. Rest in peace and without pain. I will always love you.


Katja

- 10-Feb-2020
1,570 paddlers have looked at this page
Updated: Feb 10, 2020