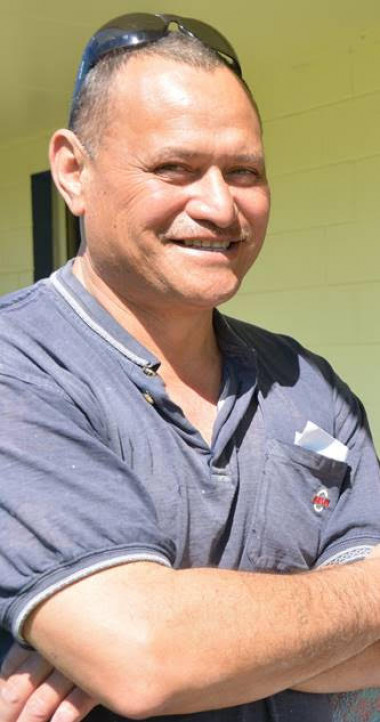 Yesterday, past Horouta Waka Hoe club president and paddling stalwart, Willie Kaa, passed away after a short battle with cancer. Willie was a staunch and dedicated clubman, following and supporting his daughter Hinerangi when she started paddling in 2005.
Willie threw in his support helping with managing several teams over the years, particularly the Intermediate and J16 girls, being an able and firm hand for coaches Irene Takao and Kiwi Campbell in particular. He himself paddled but his focus was advocating and supporting junior paddlers. He longingly promoted that the junior section of the National sprints should be held separately and exclusively from the adult competition. Over ten years of involvement with Horouta, Willie led the club as president for 4 of those years receiving the first presentation of the National Top Club trophy in 2011. The club still retains the Top Club trophy now 10 of 11 times that it has been awarded. Whilst he has done many things in his life Willie's time with us, his Horouta Waka Hoe whānau, will always be remembered with fondness and admiration.
Willie is survived by his wife Bella, children, Warihi, Mererangi, Hoana and Hinerangi and mokopuna, Tanarlea, Ashka-Rose, Madea, Maria and Awhina.
Willie's funeral service will be held on Friday 26th March 2021 at 1pm at Evan's Funeral Home, Gisborne.
Haere rā e te whanaunga, e te hoa. Waiho iho ake ko mātau hei kawe i ngā koroingo i kawea ai e koe. Nāhau rā te hiahia, nāhau rā te whakahau kia whakatutuki ngā manako o a tātau tamariki. Kāti, kia horo tō waka o Horouta ki te rangi, ki te ao katoa, tihe mauri ora!
Walton Walker
President Horouta Waka Hoe
Reader Comments
(Add a comment)
Ka nui te Aroha ki tā whānau pani.


Hei Matau Paddlers

- 26-Mar-2021

Ka nui te Aroha ki tā whānau pani.


Hei Matau Paddlers

- 26-Mar-2021

Ka tangi te ngākau e Willie. Moe mai rā ki ngā ringa o te Atua x


Adventure Wairoa - Hoe Waka Wairoa

- 30-Mar-2021

http://slkjfdf.net/ - Efonehe <a href="http://slkjfdf.net/">Afojnvi</a> mtf.rnzl.wakaama.co.nz.rqr.ef http://slkjfdf.net/


oomisami

- 04-Apr-2021

http://slkjfdf.net/ - Ilumepoya <a href="http://slkjfdf.net/">Duzedijo</a> mmw.ahlx.wakaama.co.nz.tcn.km http://slkjfdf.net/


ujzecogdiv

- 13-Apr-2021

Very sorry to hear of Willy passing away _
Heard about it to day from my old mate Ron Potter. I played rugby with Willy, went on fishing / div'ing trips and worked with him during our years in Telecom. A good mate who will be missed immensely, but the fond memories will remain for ever (still have the photo album to reflect on).


Don Adams, Wainuiomata.

- 13-Apr-2021
320 paddlers have looked at this page
Updated: Mar 25, 2021