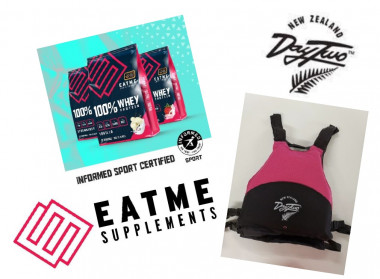 Congratulations to our winners:
*** Chris Kofoed from Te Whanganui River Outrigger Canoe Club who has won 1kg of our Premium Whey protein - choose from four delicious flavours: Vanilla, Chocolate, Banana and Strawberry donated by Eat Me Supplements***
We are proud to announce that our Premium 100% Whey Protein has been certified by Informed Sport. Certification by Informed Sport is a vital mark of reassurance for elite and amateur athletes, as well as for coaches and nutritionists.
Products carrying the Informed Sport logo have been tested rigorously for banned substances by LGC's world leading anti-doping lab, and all manufacturing processes must meet strict standards of quality control.
You can now use the WAKAAMA discount code to get 15% off any of our products! This is a one-off discount, so it can only be used once before the end of 2021. Discount code (WAKAAMA) can be entered at the checkout or via the link:
https://www.eatmesupplements.co.nz/discount/WAKAAMA
*** Kim Lysaght from Mangawhai Waka Ama who has won a Kiwitea Buoyancy Vest donated by Day Two***

A versatile starter buoyancy vest with five-way adjustments to fit children and adults.

Fantastic for waka ama, sit on tops, stand up paddling and general use.
This vest has a large front pocket big enough for your waterproof phone and muesli bars.
Choose your colour - red, yellow or orange.
Website: https://daytwo.co.nz/
The winners will be notified through their club and their prizes arranged to be despatched.
Thank you to our Equipment Suppliers for donating this months prizes - Eat Me Supplements and
365 paddlers have looked at this page
Updated: Oct 1, 2021