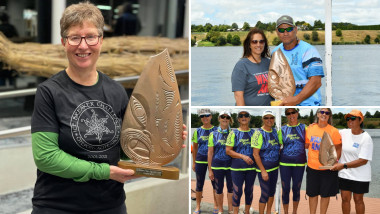 ​Our 2020-2021 Waka Ama Season is coming to an end and we want to reflect on the year that was. Ngā mihi nui ki a tātou - our paddlers, coaches, managers, mums, dads, uncles and aunties, nannies, volunteers, clubs, regions and hapori who have made this one of our best seasons yet! Thank you for all of the time, effort and most importantly aroha you have given to our sport.
Thank you to our wider Waka Ama whānau - Sport NZ, Te Wānanga o Aotearoa, Vaikobi, Water Safety NZ, Maritime NZ who have supported us throughout the year.

It has been an amazing year with a few challenges along the way. We want to acknowledge those from within our Waka Ama whānau that are no longer with us. Mihi ana ki ngā tini aituā kua wehe atu ki a tū o te ārai, moe mai, moe mai, moe mai rā.
Here are a few highlights for us below
Drafting and finalising our 2021-2025 Strategic plan
​The successful rollout of our Development Coaching Courses throughout Aotearoa
Reaching the amazing milestone of over 6,000 affiliated members
Establishing our Te Reo Taiohi o Nga Kaihoe o Aotearoa | Rangatahi Voice for Waka Ama NZ
Partnering with Vaikobi to provide quality products for our Waka Ama Whānau
Another awesome year of National, Regional and Local events
Three very special people were inducted to Tohu Whakarewa Tangata o Ngā Kaihoe o Aotearoa - Marinna Millanta-Lowrey, Vivienne Harvey, and George Thomas.
Long Distance Nationals at Waitohi-Picton in April 2021 was undoubtedly a highlight for us all!
Celebrating the 20th Anniversary of the Waka Te Tasman in November 2020 and the 20th Anniversary of the Ice Breaker Challenge in June 2021
Receiving the Jim Maniapoto Māori Participation Award at the Sport and Recreation Awards
How our Waka Ama whānau has supported one another through another year of COVID changes and disruptions
What is your highlight from the past year?! Let us know in the comments below!
Bring on 2021-2022 #wakaamaforallforlife​
Reader Comments
(Add a comment)
Loved supporting at Waitohi-Picton LDNs! That was an awesome event!!! Thanks for the memories.


Kate

- 30-Sep-2021
155 paddlers have looked at this page
Updated: Sep 30, 2021